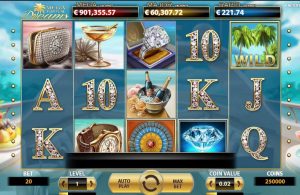 Hitting a huge online slot jackpot for most slot players is nothing but a dream. Most slot fans can spend years chasing a life-changing win and end up with no more than smaller cash prizes. But for some lucky few, becoming a millionaire overnight was just meant to be. Such is the case with one NetEnt player who snatched a massive win on one of the biggest jackpots online.
Third Big Online Slot Jackpot in 2018
As far as online jackpots go, NetEnt's Mega Fortune slots produced some of the biggest prizes thus far. The latest lucky punter to have his life changed by this fortunate slot is an unidentified player from Sweden. While playing the Mega Fortune Dreams, this Swede triggered a staggering prize of €4,084,430.35, becoming a millionaire in an instant. And just like many times before, no comments have been issued by the mysterious player on the memorable win.
But the most surprising thing of all is that this isn't the only NetEnt jackpot that was won recently. In fact, it wasn't even the only one won in the same day!
Namely, a couple of thousand kilometers away, another player hit a multi-million online slot jackpot that very same day. The second jackpot was hit on the Mega Fortune slot by a UK player who won €2,667,743.19 on the game. And to prove that even the lowest bet can amount to anything, his wining spin was hit on a €1 bet!
Since the beginning of the year, NetEnt's Mega Fortune slot series has paid over 9 million Euros. The first jackpot prize was hit in January, when a punter won €2.5 million on the Mega Fortune.
Now Available in African Casinos
NetEnt's Mega Fortune slots might not have produced impressive prizes like Microgaming's Mega Moolah games have, but they can certainly be well-worth your time. These 5-reel 20-payline luxury games pack 4-tiers of prizes that can be won during any spin through a special bonus round. And thanks to Royal Panda Casino, you can now take a shot at the Mega Fortune jackpot from Congo, Tanzania, Kenya, and Uganda.