Gambling and casinos in Congo (DCR)
info about casinos and online gambling for Congolese players
Casinos and Gambling online in Congo DRC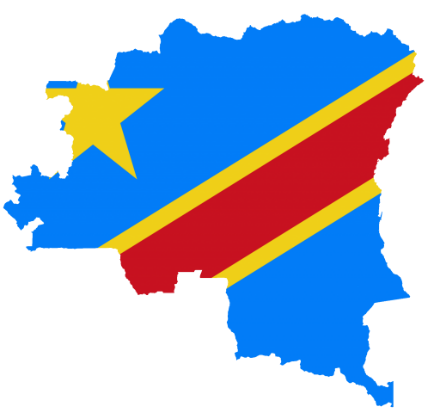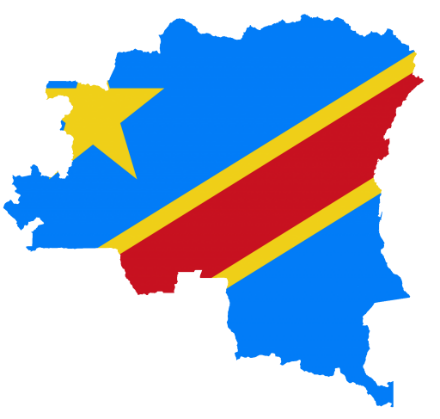 The Democratic Republic of Congo is also often referred to as DR Congo, DRC or even just Congo. DRC is a country in Central Africa. Prior to the year 1997, it was known as "Zaire" and before that period, until 1960, it was known as the "Belgian Congo". DRC is surrounded on each side by a number of countries that include the CAR, South Sudan, Zambia, Angola, Tanzania, Burundi, Rwanda, the Republic of the Congo and the Atlantic Ocean.
DRC is the second largest of all the countries located in Africa with regards to its land space. It also has a population of more than 80 million people, making it number four on the list of most populated regions in Africa. The DRC has many natural resources, but remains unstable from a political standpoint. It is also lacking with regard to its infrastructure and is known for deep rooted corruption.
Two of the major cities are mining communities. These cities are Lubumbashi and Mbuji-Mayi.
The capital of this Central African country is Kinshasa.
French is the official language of DRC, but more than 700 other languages can also be heard throughout the region. Swahili obviously being one of the most important!
About Gambling in Congo (DRC)
There are several smaller sized land based gambling establishments throughout the Democratic Replublic Congo, as well as a couple of large ones. The Grand Hotel Kinshasa is one of the larger land-based casinos in the region. This casino is located is located at Avenue Batela-gombe in Kinshasa.
Another one of the bigger casinos in Congo (DRC) is The Carnaval Casino. Together both casinos offer over a thousand thrilling table-games and slot-machines with high jackpots. Both are worth a visit when you happen to visit Kinshasa.

Online Gambling in Congo (DRC)
Online gambling isn't something that's specifically regulated in the region, but it is legal to participate in this form of gambling. The fact that only 5% of the region accesses the Internet has made it so anyone who actually does go online will currently have to turn to foreign online gambling sites in order to take care of their gambling desires.
Once a player locates the right online gambling site to play on, they will have to make a deposit to play for real money. Credit Cards are going to prove to be the easiest methods for those in the region to use. All major online casinos accept players from Congo.
As far as our team is aware there are no special requirements or wagering restriction when Congolese players open an account at the online casinos mentioned here on swahilicasinos.com.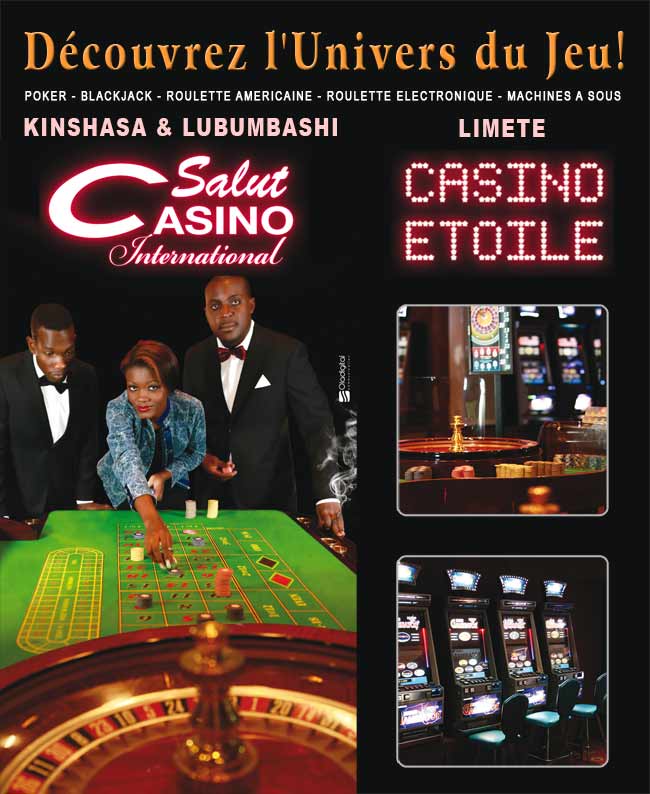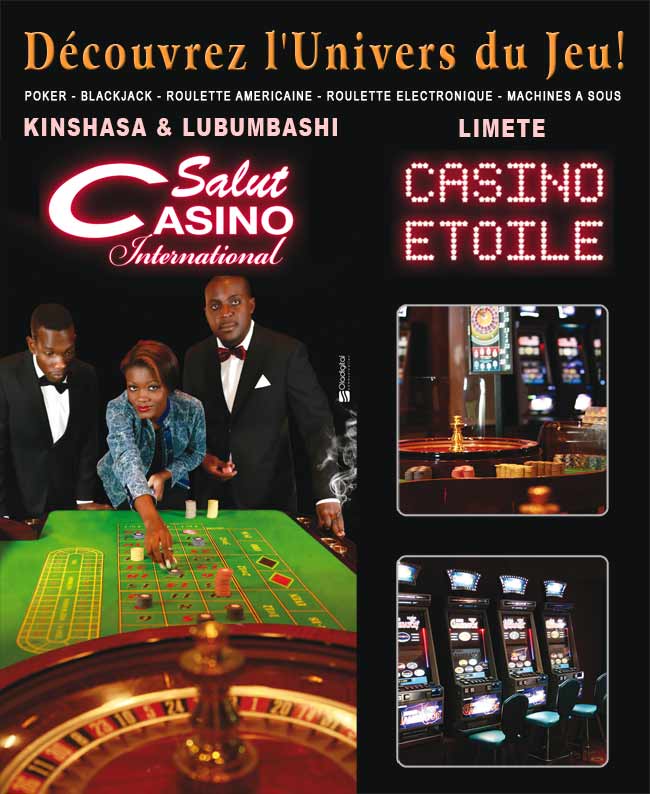 SONAL – National Lottery Congo
The National Lottery Company is a mixed economy company. 60% of the share capital is in possession of Congolese  governemtn whilst the remaining 40% is in private hands. The National Lottery was authorized by Presidential Order No. 84-155 on the fourth of July in 1984.
The mission statement of SONAL; "We aim to exploit lottery games and predictions competitions in order to contribute to the promotion of social and artistic works, to develop socio-economic activities and those that serve public utility."


Bingo in Congo (DRC)
Bingo, a definite game of chance, is deemed to be 100% legal in the region. However, it still isn't one of the most popular games in the Congo. There are currently not any known bingo establishments in the area and the game is nearly unknown. However, this is something that online gambling can soon change. The affordability and flexibility of bingo make it a game that will more than likely catch on quickly once word spreads.
Conclusion about gambling in the DRC Congo
Currently we consider Congo a "virgin" territory on the field of online gambling. However as mentioned previous there are casinos available. The Grand Hotel Kinshasa, located at Avenue Batela-gombe in Kinshasa, has an impressive number of gaming machines to offer.
In fact, there are over 100 gaming machines that cater to those interested in playing the slots. There are also close to 10 table games to play games like roulette, blackjack and baccarat. Anyone who has come from out of the area to enjoy all the gambling the casino offers will be able to stay in one of the 422 rooms the hotel has to offer that's also located on the same property.
The Carnaval Casino Kashasa has more than 4,100 square feet worth of gaming floor space. With over 60 gaming machines for slots players to enjoy while they are visiting the casino. a dozen table games that allow players to enjoy 3 card poker, roulette, blackjack, and others. Patrons who have traveled a good distance in order to enjoy the gambling opportunities the casino offers them will be glad to know that the Hotel Memling is only a short walk from the casino. There is also a casino restaurant available that serves light meals to patrons.
Many online betting opportunities for Congolese
Many of the online casinos out there cater for player form the Democratic Republic Congo. There are no special requirements (nor restriction) to register a casino account. Mobile payment options are rapidly growing in popularity. Payments via Credit Cards and E-Wallets are also increasing in Congo. Those are accepted in most of the online casinos.
Mobile coverage is average to good in many cities in Congo so you can use your phone to register online as well.  All reputable casinos have converted their traditional flash games into HTML5 so they are fully compatible with mobile user interfaces like IOS and Android.
Betting on sports and gambling on games of chance from Congo can be done by adults from 18 and up.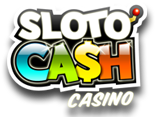 This casino has all the fun one can wish for. The good thing of Sloto Cash Casino is that it's an ideal casino for those who like to play free games or play for small stakes. But don't worry also the player that wants to "roll high" will enjoy this online gambling website that accepts players from Congo.
Their easy to navigate menu let's you choose games on your mobile in a breeze.
Great Slots like; Cash Bandits, Mega Saur, Lion Lair, Voodo Magic and more
high definition live casino games
24/7 support via phone, mail and chat
tons of promotions are offered
Your account is free. Get up to $250 bonus on your 1st deposit!


Where the Congolese lack a traditional symbol of luck this casino instantly offers one. The lucky clover! Mega combined with the name "Luck" it will be hard for people not take a chance on winning a nice prize here. You never know if you will be the next one that wins one of the jackpot. (Some of them are stacked up with millions!)
instant casino games on all devices
table games with live dealers on your phone too
tons of slot-machines with beautiful themes
friendly support team that is always available for you
Your account is free. Get up to $300 bonus on your 1st deposit!


Royal Panda accepts players form Congo. It might be a bit of a challenge to deposit in your account if you haven't got any credit-cards or access to an e-wallet. Royal Panda does not offer any local Congolese mobile payment methods but we expect them to be available at this online casino soon.
live table games and slots with a local theme
prompt transfers of winnings
helpdesk is available 24/7 in French
accessible for small and bigger spenders.
Opening an account is free and you are eligible for $100 bonus and 10 Free Spins!

Luck in Congo
Feeling Lucky is a life style. Are you adapting to the new luck in Congo? Ready to win and chance your life? Just get your yourself a real portion of faith and a bit of luck. Today is your day,.. GET THE LUCK!
Gambling Law in Congo (DRC)
Gambling in the Congo is legal. It was 2005 when gambling on what are considered to be "games of chance" was first regulated. Since this time, the laws have been amended here and there. However, the basic rules and regulations remain relatively the same.
One of the major regulations regarding the land based gambling facilities located in DRC is they must be registered in a way that clearly defines them as gambling establishments. Also, they need to follow through with paying the appropriate taxes they owe.
It's important to note the way the laws regarding gambling are written for DRC specify "games of chance" which would qualify types of gambling that includes games like slots, lotteries, or others where the outcome is a complete surprise and cannot be altered. This means games of skill, such as blackjack and poker, are not covered. This leaves it up in the air as to whether or not certain games would actually be considered gambling. However, games that would technically be considered games of skill can be found at casinos in the region.
Gaming Board of Congo (DRC)
Currently there is no Gaming Authority functional in the Democratic Republic Congo. All gaming and gambling related issues are dealt with by the Government directly.
Landbased casinos in Congo
Casino International – 4, Av Batetela, Gombe/Kinshasa
+243 815 553 002
Le Grande Casino – Avenue Rep Du Tchad, Kinshasa
+243 817 001 111